Comspec Inspect. Property Inspection. - Durban
Wednesday, 22 May 2013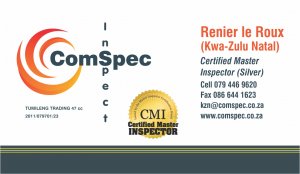 Item details
City:
Durban, KwaZulu-Natal
Contacts

Renier Le Roux

0794469620
Item description
Our reports are based on the truthful findings and is fair towards the inspection and it will stand up in a court case if it needs to be.
Comspec Inspect is not associated with any contractor nor with any estate agent what so ever. We are completely fair in our report and approvals to you.
To do a property inspection is of utmost importance because it is a valuable tool when you are buying or selling your property.
Comspec Inspect is an inspection service to the public. But when faults are identified we can suggest a possible solution for you. But it's your own choice whether you are going to take it or not.
We do not have a definite time limit on our inspections because it all depends on the size of the property and the faults of the property and the building(s).
When we conduct a property inspection we look at everything external and internal of the building. We note everything in a broad spectrum.
To prevent and to save is much better to repair and waste. In common sense there is always the stress factor attached to that. Gives you a better reason to hire an inspector TODAY.
A known fact is that when a new home buyer wants to buy a property, wants his sale to be done effectively and immediately. A home inspection gives the home buyer a good piece of mind and a high level of satisfaction. Thus through Comspec Inspect that conducts a home inspection eliminating all stresses, doubts, customer dissatisfaction and it also makes the sale faster and easier. Also with this strategy it creates a smoother playfield between the buyer and the estate agent.
Now in the Customer Protection Act CPA Section 55 of this Act suggests that Estate Agents will be held responsible for ensuring that home buyers are fully informed regarding the condition of the property. The "As Is" or "Voetstoots" clause in an Offer to Purchase will no longer apply; therefore Estate Agents will not be protected from the risks of non-disclosure. In effect, Estate Agents will need to provide full disclosure up-front to potential home buyers. More reason to hire an inspector.
For most people buying a house, is normally the biggest purchase they will make in their lives, so they will appreciate it when an estate agent recommends a complete property inspection before the sale takes place. It shows honesty, trust and integrity on the part of the estate agent for home buyers and sellers. So in other words gives customer satisfaction and before you know it, you will have more people using you to sell their property or building.