Pay Less & Save Big~ Cornicing from R8.00 - R20.00 p/m - Durban
Tuesday, 24 April 2018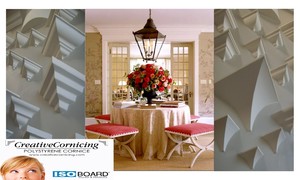 Item details
City:
Durban, KwaZulu-Natal
Contacts

Sales

031 762 4836
Item description
When Beauty and Simplicity Connects
With simple clean lines of the modern era, to detailed designs of the Victorian and Georgian period the product range including Cornices, Ceiling Roses, Corbels, Dado Rails , Skirting's, Corner Pieces and much more. Used at the transition of wall and ceiling, cornice mouldings are the simplest form of enrichment for a living space. Whether classical or modern in form, cornices frame a room, enhancing its volume and defining its space. Traditional plaster cornices differ from their modern material counterparts not only in the centuries of heritage they are born of…
•They blend seamlessly with a building – they do not feel 'applied' but they complement and perfect a building
•They are harmonious with the building environment; they are made from nontoxic materials and will not contribute to Sick Building Syndrome.
•They have an excellent fire rating and do not produce toxic smoke in the incidence of a fire.
•They have a timeless quality: with an unrivalled quality of finish and definition and they will not shrink or yellow with age. To complement our custom mouldings we offer a wide range of standard profiles for you to choose from
Turn any room in your home into a reflection of your unique sense of style with Creative Cornicing easy to install lightweight durable range of High Density XPS Cornice polystyrene mouldings. With a verity of profiles available to choose from, it's never been easier to indulge your personal sense of style, and now with a state-of-the art manufacturing right here in SA, it's even more affordable too.
Easy To Install:
•Heat-moulded polystyrene
•Perfectly smooth finish
•Easy to install
•Lightweight
•Durable
•Works with all good quality water-based paints.


Cornices are manufactured and supplied by Creative Cornices in a wide range of both Extruded Polystyrene (XPS) . The range includes various profiles manufactured in 3 different sizes. This gives the distinct advantage of being able to stick to the same profile design throughout an entire house or building.