The laying briquette machine - Durban
Thursday, 9 August 2018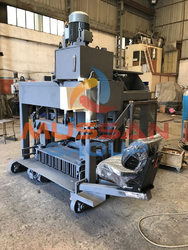 Item details
City:
Durban, KwaZulu-Natal
Contacts

Giorgi Gvimradze

+905362230146
Item description
For Custom request contact us in Turkey
90 536 223 0146

⦁ MODEL BM6
⦁ Capacity: 5,500 pieces 20x40x20
⦁ Period: 30 S
⦁ Briquette production in one go: 6 pieces 20x40x20
⦁ Dimensions: 1800 × 2150 × 1600
⦁ Total Power: 13 Kw (220V or 380V)
⦁ Frequency: 3200 HZ
⦁ Weight: 2500 KG
⦁ Mold form: Vibration and Pressure
⦁ Vibration form Mold Vibration

► HAVE HIGH PRODUCTION CAPACITY WITH LESS PERSONNEL.
► ALL KINDS OF SPARE PARTS ARE AVAILABLE WITH EASY.
► ELECTRIC CONSUMPTION IS MINIMUM LEVEL.
► CAN BE MOVED AND INSTALLED EASILY.
► YOU CAN MAKE OUR PRODUCTION IN THE BUILDING WITH THE ORDERED SITE.
► LOW NOISE REMOVES WITH SILENT ENGINE PUMPS.
► EASY AND SHORT BUTTON CAN BE CHANGED.
► DO NOT REQUIRE TECHNICAL ASSISTANCE FOR INSTALLATION.
The production period is 45 working days maximum
Electric machine board; all control parts are one place. Emergency stop buttons are used for emergency situations. Schneider and Siemens products are preferred for the materials used. There are independent protection fuses for the motor.

Infrastructure project; provided free of charge.
• shipping and all insurance costs belong to the buyer,
• payments; The order contract is organized by order, 30% prepayment, 40% interim payment and 30% partial delivery and bank transfer.
• guarantee; All our products against manufacturing defects are guaranteed for 2 years.