Window Tinting Durban - Durban
Thursday, 28 March 2019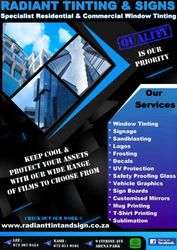 Item details
City:
Durban, KwaZulu-Natal
Contacts

Nash

0723679454
Item description
Window Tinting Durban, Signage Durban , Sandblasting Durban
For all your office and building tinting and frosting (Sand-Blasting) of windows and mirrors etc. Best prices. Supply and install. Best quality solar tints and sandblasted finishes. Free quotes. Specializing in Buildings only : Hospitals , Offices , Houses , Shops , Churches , Malls , Doctors Rooms etc.
Complete Range of solar films to choose from for corporate and residential. We can advise and help you choose the best film for your home or office etc with over 100 samples to choose from. We can also install safety film to your glass to minimize injury in case of breakage.
We have been doing window tinting in Durban and surrounding areas for over 15 years.
Solar Frost films are similar to a sand-blasted window, which gives it a translucent look and adds maximum privacy while letting some light through. Now available, these films are excellent for office and bathroom windows where you need to block visibility but maintain a refreshing look. We do sandblasted patterns to suite your requirements.
We Specialize is the following:
Graphic signage for your Business, Car, Shops signs, Boats etc. Window tinting, Solar and UV protection. Safety proofing of Glass. Sandblasting of wine glasses , Sandblasting of Kitchen cupboard glass, Mirrors and Splashbacks.
UV Protection, Safety and Security, Heat reduction, Glare reduction, Privacy and Decoration

Over 15 Years' Experience

Email radiant.tinting @ gmail. com or Call for quotes . 100's of tints and designs to choose from.
Google our site: radianttintandsign
We are a registered company.