Energizer 102AH Battery - Durban
Tuesday, 1 December 2015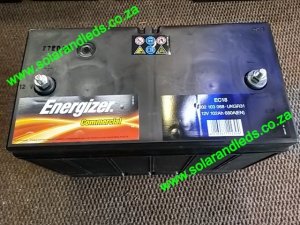 Item details
City:
Durban, KwaZulu-Natal
Contacts

Solar That Works

031 8374602
Item description
solarTHATworks
-Telephone Enquiries : 0736678827 / 0318374602
-BBM / Whatsapp / SMS Enquiries : 0815473029 / 58BBD04D
-Business Hours : Monday to Friday 8.30am - 5pm / Saturdays 8.30am - 2pm
-Address : 27A Second Avenue Malvern, Queensburgh, Durban
-Card Facilities Available
-All prices advertised are cash prices
-Delivery Available : via courier

This is a 102AH battery suitable for solar systems, 4x4, caravans, UPS, backup power, etc etc. It is 102AH 12V.

We are suppliers of solar and LED components, including; batteries, solar panels, charge controllers, LED light bars, LED light modules, 12V battery chargers, 12V digital timers, digital voltmeters, inverters, etc etc.




All prices include VAT. All prices subject to change without prior notice. Pictures for reference only. Actual product may vary from pictures shown. All prices advertised are cash prices.