Textbooks 4 sale - unisa - bcompt - Durban
Saturday, 9 March 2013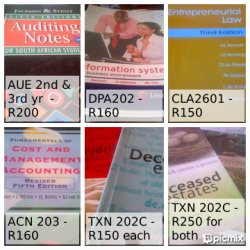 Item details
City:
Durban, KwaZulu-Natal
Contacts

Mel
Item description
Hi,
I'm selling textbooks for the following modules :
CLA2601, Entrepreneurial Law - R150

TXN-202C, Deceased & Insolvent Estates : R150 each

DPA-202, Accounting Data Processing : R160

AUE 201, 202, 301, 302, 303, 304
Auditing Notes by Jackson and Stent : R200

ACN-203, Cost Accounting for 2nd Year : R160

Books are in very good condition. Almost like new. Bank Deposits/EFT's only. No Cash Payments. Free Postage. Email me if you are interested.