Digital Voltmeter For Car Audio - Durban
Tuesday, 1 December 2015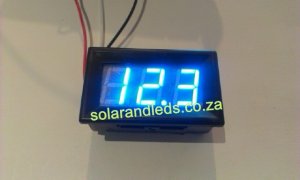 Item details
City:
Durban, KwaZulu-Natal
Contacts

Solar That Works

031 8374602
Item description

solarTHATworks
-Telephone Enquiries : 0736678827 / 0318374602
-BBM / Whatsapp / SMS Enquiries : 0815473029 / 58BBD04D
-Business Hours : Monday to Friday 8.30am - 5pm / Saturdays 8.30am - 2pm
-Address : 27A Second Avenue Malvern, Queensburgh, Durban
-Card Facilities Available
-All prices advertised are cash prices
-Delivery Available : Courier from R60 and postage from R41

This is a digital voltmeter especially suited to car sound systems. The voltmeter gives a digital readout of your battery's voltage level. Available in various colours, sizes, and measuring ranges (contact us for more info on the other voltmeters available).
This voltmeter comes with a panel mount housing, making installation easier and neater. Very simple to install : just uses 2 wires!
If you are doing sound competitions, then you need a digital voltmeter, as without one, you won't know if your battery is at the optimum voltage!! With these digital voltmeters, you do not need to stress over what your battery voltage level is at...forget about playing the "guessing game"...you can now know exactly what your battery voltage is!!

This voltmeter is available in red, green, or blue, and adds that modern tech touch to your ride! At the low cost of our digital voltmeters, you can afford to now know your exact battery level!

Attention Audio Installers & Suppliers
We offer discounts to installers and resellers, so if your business is all about car sound and customization...then get hold of us to get a special reseller's discount just for you! You can then purchase the voltmeters directly from us at our dealer price, and then install it for your clients.

Specifications;
Measuring Range : 4 - 30V
Display Colour : BLUE (other colours available)
Physical dimensions : 4.7 x 2.7 x 2cm
Refresh Rate : 500ms
Accuracy : +-1% 1 digit)





All prices include VAT. All prices subject to change without prior notice. Pictures for reference only. Actual product may vary from pictures shown. All prices advertised are cash prices.